I see that on client's faces all of the time. The thought of blogging is foreign, sounds time consuming and a waste of time. I am sorry to tell you this but it really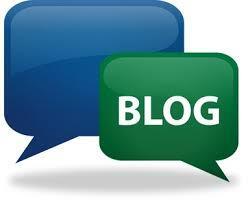 has become a requirement online. If you want your website found, Google love and the possibility of landing on the first page of the search engines then, well, you better begin blogging. With the fact that Author Ranking has become more important than page ranking you better become familiar with the idea.
Okay so maybe you are warming up to the idea of becoming a blogger. Just know that blogging is not selling, blogging is being a resource provide good content, helping your visitors. It is about writing good content and not writing for SEO or some algorithm, the way it should have been all along. I think probably the most difficult part of blogging is finding the ideas for topics. Sometimes I wonder how many times can a blog post be written about "blogging" or any other topic for that matter. But I have to tell you if it is good content you will find someone that it will touch, and that is the goal.
Blogging helps you:
Build your reputation
Establishing online authority in your niche
Building an audience which will result in building your email subscriber list
Drive more traffic to your website or blog
And eventually build more sales and opportunities (it does not happen immediately)
If you are going to blog then make it worth your efforts and follow some simple, not always easy rules.
Care about your audience. If you are just writing because you keep being told you should, it will show in your content. Write about topics you love.
Never use stolen content, it will never serve you well.
I struggle with this at times because I write too fast and don't always do a good job of proof reading. But you should pay attention to spelling, facts and grammar
Share yourself in your writing.
Find your unique take on something that has been covered by others.
Write content your readers want to share and bookmark.
Just get started and know that you will continue to get better as you practice. Use a variety of content from the written word to video to info-graphics to tell your story.
Want a few tools to help the process? I have developed a Complete Blogging Kit to assit you.
It contains:
An editorial calendar
List of the most important blogging plugins for WordPress and why.
Inspirational video playlist to kick start your creativity whenever needed.
SEO checklist for your blog posts (okay so content is important but you can't just throw the SEO away)
How to write effective headlines.
Five steps to a good blog post.
How to take advantage of Google+ and authorship.
Get immediate access to The Ultimate Guide to Blogging