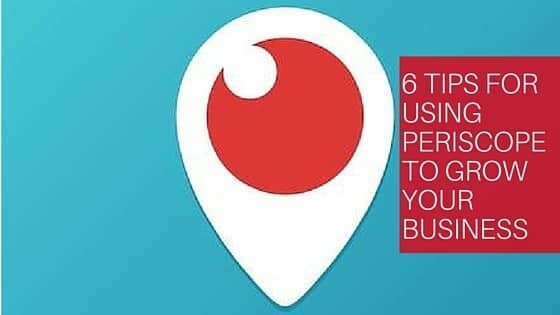 With more people using their mobile devices, specifically their smartphones, to search for the products and services they want, it is important to have a strong digital marketing strategy. While your main website should be responsive so it can be viewed on any device that can access the Internet, it is also important to use mobile apps in your strategy. As more apps are being released, it is necessary as a solopreneur to learn how to use them to help grow your business. Even if you choose not to participate on the platform.
What is Periscope?
Before you can add a mobile app to your digital marketing strategy, it is important to understand it and how to use it. Periscope is a broadcasting and video streaming service that was purchased by Twitter last year. It allows you to share videos with friends or broadcast live by video conferencing with others, as long as your broadcast is set to "public."
You can switch your messages to make them public or private at any time, as Periscope is essentially a broadcasting channel for your business. The broadcasts are interactive, so people watching them can comment live, like them, or share them on their Twitter feed. The app can be used on smartphones that use either iOS or Android, so your business can reach a broad range of users.
After you've held a live broadcast, your videos are still available to viewers for an additional 24 hours before the content is removed from the app. However, even after being removed from the app the video is saved to your phone, so you can still post it online, share it on other social media sites, re-watch it, or email it. This app allows you to gain visibility for your business and reach out to people who are interested in your products or services in a new way.
Tips for Using Periscope
When you add an app to your digital marketing strategy, it is imperative that you learn how to use it in order for it to be effective. Play with the app before starting your live broadcasts so you are not fumbling around trying to figure out how to use it while trying to engage with your audience or other influencers. Here are some other tips to use when trying to build your business using this app.
Write an Interesting Bio
The bio on your channel can help you gain new followers, or cause people to skip right past it because it is forgettable. Indicate whom you are by including your business title, such as the owner or CEO of XYZ business. Indicate that you know how to use the app by proclaiming yourself to be the "king" or "queen" of the app. However, if you do this, make sure you are an expert in using it before making such a bold proclamation to avoid embarrassment.
Take advantage of the opportunity to add a backlink to your company's website so followers can go there to get more information or to buy your products or services. Include a professional photo of yourself, as you are using this app as a real business tool, so you want to put your best foot forward. Avoid using photos of your family, or your pets, using emoticons, and do not make any silly faces in your photograph. If you are shy about putting up your picture, simply use your company's logo.
Post Good Content
Just as with any other online business tool, you need to grab people's attention right away or they will quickly move on, possibly to a competitor's broadcast or website. You need to include great content on your broadcasts to keep your viewers' attention and provide them with information that will address any concerns or questions they have about your products or services. Create videos that focus on one product or aspect of your business and keep your videos brief.
Some businesses like to use their Periscope broadcasts to demonstrate how to use their products or show potential customers the benefits of their services. If you've noticed multiple people asking the same question about using one of your products, make a video to address that issue and show your audience how the product works. Not only will this make for great content, but it will also show your followers that you are responsive to their questions and needs.
After you've broadcasted your video, don't let it go to waste, especially if it received a good response from your audience. Re-purpose the video by posting it to other social media sites like Instagram or YouTube. You can also post it on your website to help drive more traffic to your site, or you can turn it into an interesting presentation and post it to SlideShare.
Write Attention Grabbing Titles
Many people will choose to watch your content simply based on the title you've written. An attention getting headline will pull them in and make them want to watch your broadcast. Users of this app have plenty of content to choose from, so adding a good title for your scope can get more users to join your broadcast to view the content.
A good title will get to the point of your broadcast and not be ambiguous or vague. If your content is a live demonstration of one of your products, indicate that in the title. A clear, specific title can be used to target your audience, so the people who will be more likely to buy your products or services will be more inclined to join your broadcast.
Consider including hashtags or your Twitter handle in the title of your broadcast to make it easier for interested viewers to find. You can also use the same hashtag to promote your broadcast on Twitter, which can help attract more interested viewers. Taking the time to create a good title can easily mean the difference between having people join your broadcast and having them skip right over it.
Engage with the Audience
During your broadcast, take some time to acknowledge the people who have joined the scope, especially if you've noticed they have viewed other broadcasts before. This will help you connect with the audience and make it more personal for them, which can help gain their loyalty. In addition, connecting to your audience allows you to gather information about them to see if your scope is drawing your target audience, or to build marketing lists by asking for email addresses during the broadcast.
Another way you can connect with your audience is to take them behind the scenes of your company, or doing an occasional personal broadcast. Introduce them to other people who work for your business or give them some insight about how you conduct business. This will help increase the trust factor amongst your viewers.
Connect with Industry Influencers
Along with engaging with your target audience, also try to engage with other influencers within your industry. If you've already identified who they are, search for them on Periscope and start attending their broadcasts. Participate in their broadcasts by asking smart questions during their sessions, but don't take up all of their time. Be ready to listen during their broadcasts and participate when appropriate and you may be pleasantly surprised by how many followers, including influencers, you gain.
Connect to Twitter
One of the most important ways to gain attention for your broadcasts is to connect your Periscope account to your Twitter account. This allows you to notify your Twitter followers of your upcoming broadcasts and you can tweet to them right before your broadcast begins as a helpful reminder. For followers who have the app, they can tune into your live sessions and others can tune into them on the web.
Don't forget to indicate your broadcasts in advance by including your scope session schedule on your website, and by posting it to your other social media sites as well. This can help drive more of your target audience to your broadcasts.
A Cost Effective Tool
[tweet_box inject="@donnaamos"]The Periscope app is a cost effective digital marketing tool because using the app is absolutely free. All you have to do is take the time to produce great content and broadcast it.[/tweet_box] In addition, since you can re-purpose your content, you can get more use out of it and help drive more traffic to your site, which can help convert visitors or viewers into paying customers.
When you do broadcast don't forget to add a call to action. The purpose of using this, and other tools, is to grow your business, so you have to ask for the sale in some manner. You can include a promotional discount solely for the viewing audience, talk about your latest promotion for the product you've demonstrated, or simply add a link to your webpage featuring the product.
By using these tips, you should be able to gain more followers for your scope sessions, which will help you find more potential customers and expand your business. Providing great content can help gain attention for your company and increase your sales.