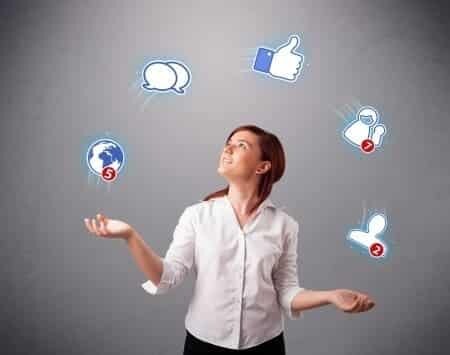 There are many tools that solopreneurs need to learn to achieve success. Of those, social media is one of the strongest marketing mediums that can turn the efforts of one man into a marketing reach that only the largest of enterprises could ever hope to achieve.
Below are a few lessons to learn from previous social campaigns. By learning from them, you can achieve similar success in your own endeavors.
1. Creativity Drives Engagement
Imagine how you would get in contact with a tough audience to reach.
For example, what would you do to reach an audience of people who thrived on the sport of tennis?
The answer might be simpler than you think. Give them the opportunity to play tennis with one of their favorite athletes.
To celebrate the 40th anniversary of BNP Paribas sponsoring the French Open, fans were given just that ability. A simple link took them to a website where they could tweet using the BNP hashtag to be able to shoot a ball at Jo-Willfried Tsonga. The machine would randomly select from 30 tweets and fire in the exact position at Tsonga.
This campaign was successful not only because it had the proper ingredients for a socially driven marketing campaign, but also because it gave fans a unique way to interact.
Creativity drives engagement and makes any social media efforts better.
2. Make It Catchy
In May 2013, Confused.com ran a campaign that allowed users to play on the namesake of their website. They would respond to the questions of followers in the form of a short video.
Clever wordplay and other tactics tend to drive social interaction.
The lesson to learn from this campaign focuses on what didn't go right. While the campaign had a solid idea, the way it was performed was ultimately lackluster. There were very few retweets, which in turn made this campaign less effective than it could have been.
What you should consider in your social campaigns is where and how you market. Ensure that there's a good reason for your audience to share the content that drives your campaign, otherwise they may fall flat.
3. Focus on Your Audience
Electronic Arts launched a successful social campaign for the Armored Kit add-on to Battlefield 3 early in 2013. The campaign little more than a film that played tribute to the various clips other users had released of their Battlefield 3 game play.
This campaign was considered a cost-effective success. For around $100,000. it spurred on sales of the add-on and resulted on 630,000 views on YouTube. This made the effective cost of the campaign around $0.15 per view.
The moral of this case study is to focus on what your customers are able to create. You give them a brief flash in the limelight while verifying that your product really is spectacular.
Achieving Social Success
By choosing the right medium, focusing on your audience and bravely showing just how creative you can get, you can achieve social media marketing success. Solopreneurs will find that these qualities can give the priceless advantage that needed to contend in a ruthless market as the underdog.