One of the most difficult parts of bootstrapping a business is finding cost-effective ways to market it, and this is particularly true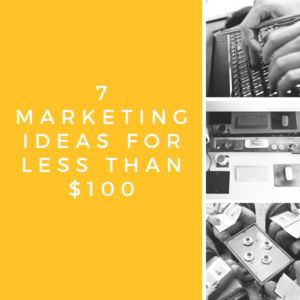 for solo entrepreneurs who generally do not have outside funding. However, there are a number of ways to successfully market your solopreneur business for less than $100 per month. Here are just 7 Marketing Ideas for Less Than $100.
1. Email Marketing
People who run businesses online often say that the money is in the list. What this means is solopreneurs will receive most of their sales from people who have signed up for their mailing list. That is why it is very important for you create a signup form for your mailing list. Email marketing services like Mail Chimp allow you to send out newsletters and special sales promotions for as little as $15 per month.
2. Facebook and Twitter Ads
Facebook and Twitter allow you to display highly targeted advertisements, which are often very effective in driving traffic and sales. While it may take a little bit of experimentation to find and target the right audience, advertising using these sites can generally give solopreneurs a great return on their investment. In fact, it is possible to run a successful campaign with a budget of $50 per month.
3. Consistent Blogging
Consistent blogging is one of the best ways to market your solopreneur business. Not only is it free; anything that you add to your company blog will remain an asset that continues to draw traffic for years to come. In addition, adding content to a site on a consistent basis is something Google looks at when ranking sites in the search engine results pages. However, you need to make sure that you post content relevant to your customers and your business.
4. Social Sharing Platforms
Add to your blogging strategy platforms like Triberr and Viral Content Buzz, which can [tweet_dis]put your content in front of a much larger audience by exposing it to "influencers," people with large networks. To be really effective, you need a decently sized social media following (effective ads on Facebook and Twitter can help with this).
Don't forget social bookmarking sites like StumbleUpon or Delicious, both of which will index your content and help more people find it.
5. Guest Blog Posting
Guest blog posting can be a great way to promote a solopreneur business. However, you need a coherent strategy before attempting to find blogs to guest post on. Look for blogs that are authorities in their niche and have large volumes of traffic. When you have selected a few appropriate blogs, contact the owner and ask about the possibility of guest posting. People are often rather receptive to having others create high-quality guest posts for their blog, as they can add content to their site without having to do the heavy lifting. However, solopreneurs should keep in mind that they will need to supply high-quality, original guest posts that add substance for owners to accept them.
6. Cold Calling
If your products or services primarily cater to other businesses, you can often successfully market to them by cold calling. While this may be quite a bit of work, it can be completely free if you already have an unlimited calling plan on your phone. In addition, businesses are used to receiving cold calls from people marketing relevant products, so this approach can be very effective if done correctly.
7. Networking or Mastermind Groups
If you primarily cater to other businesses, you can often successfully market what you have to offer by networking. While this may be quite a bit of work, it can be completely free if you put in the time to identify strategic partners who can support and refer business to you. Professional associations can help with networking and membership dues for some organizations will cost you less than $100 a year.
In the end, you must have a marketing plan where you have thought through your processes, implement these 7 Marketing Ideas and maintain them consistently.