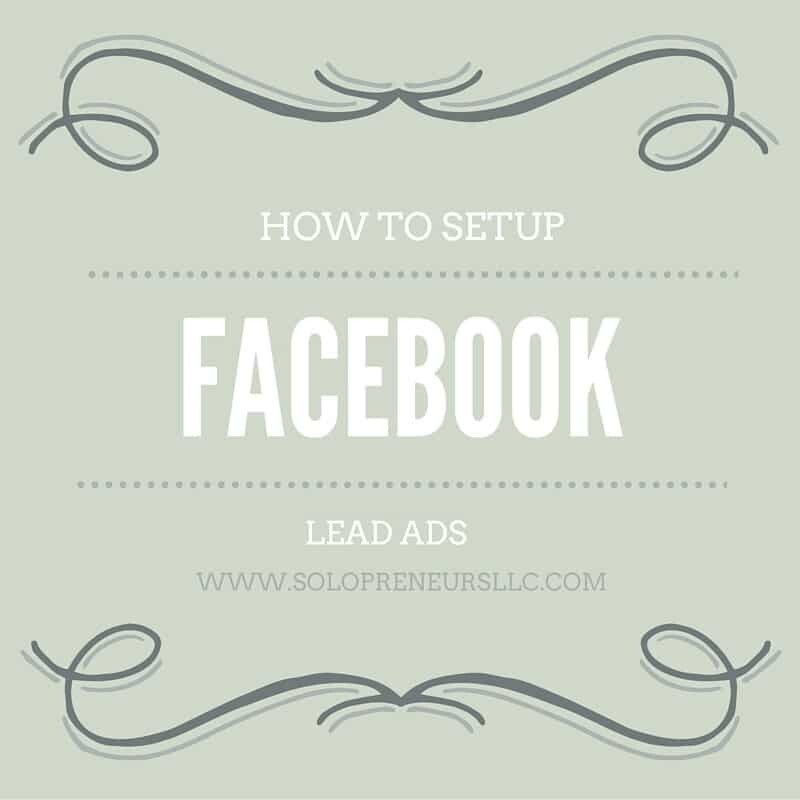 Facebook lead ads help solopreneurs interact with their target markets specifically on mobile devices. With two taps you can gather contact information. Allowing you to build leads for your solopreneur business.
Whether solopreneurs want to encourage people to sign up for their newsletter, an offer, an event or more information about their product, lead ads simplify the mobile signup process, helping businesses hear from people interested in their business. via Facebook.
Facebook ads in general, are a very cost effective way to drive traffic, build recognition for your solopreneur business, build your email list and drive conversions.
Step One: Facebook Ads Manager.
Running ads on Facebook is easier and more effective than ever. Step one is selecting your objective.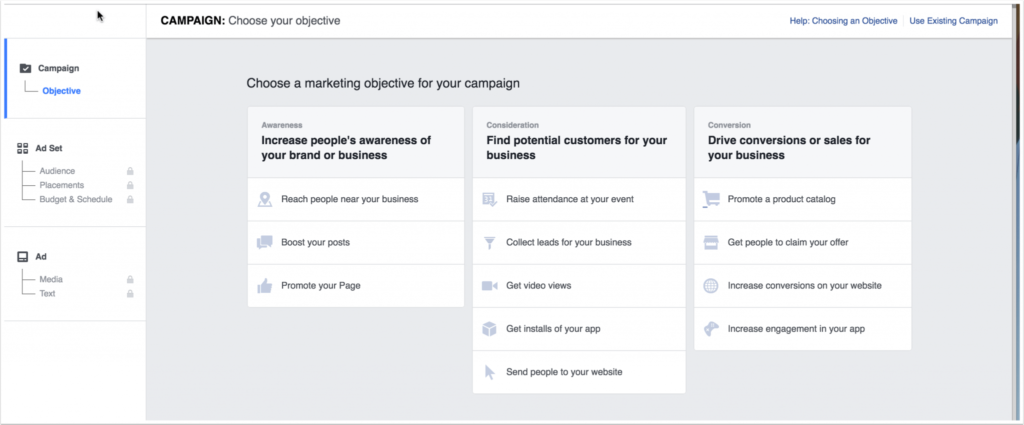 Lead generation is an objective that many small business owners are not aware of. So let's walk through how to set up a leads ad. Select lead generation from the objectives, Name your campaign and hit continue.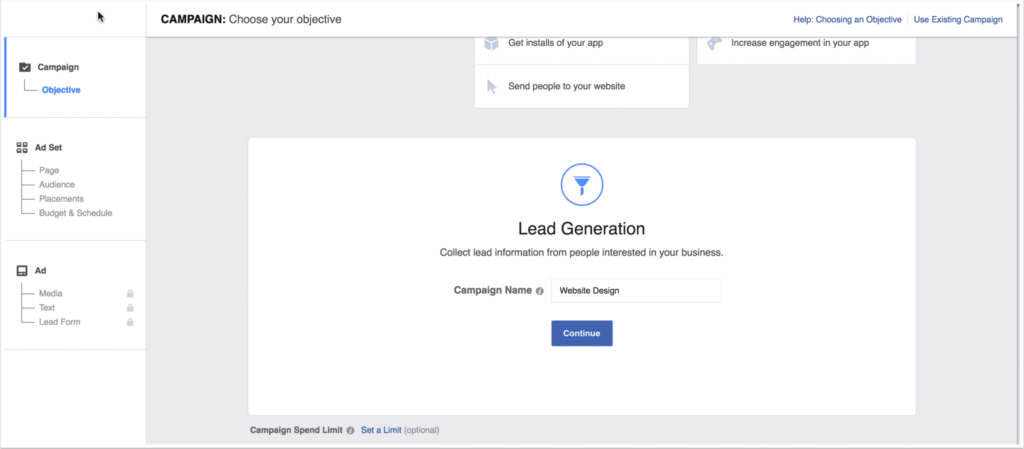 If you have the Facebook pixel implemented on your website you can set lead ads to be shown to people who are likely to sign up for information and are also able to measure cost-per-conversion from lead ads.
I had to setup my custom audience prior to setting up my ad because I wanted a look a like audience. This means I have a retargeting audience in my Facebook account for those that have visited the web design page on my website. So I am letting Facebook create a look a like audience of people that match the same characteristics including buying habits.
However, if you do not want to create a custom audience then select your audience by demographics and interests.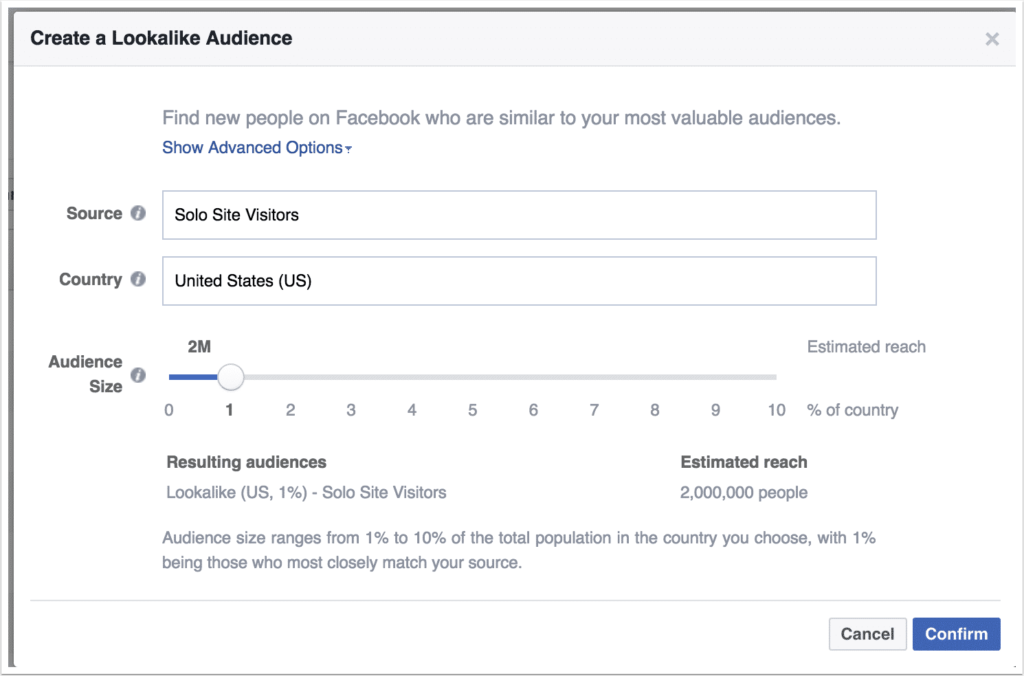 Detailed Audience Targeting
If I was not using a custom audience I could select an audience based on interested. When building your audience you want somewhere between 500,000 and 2 million in your potential reach.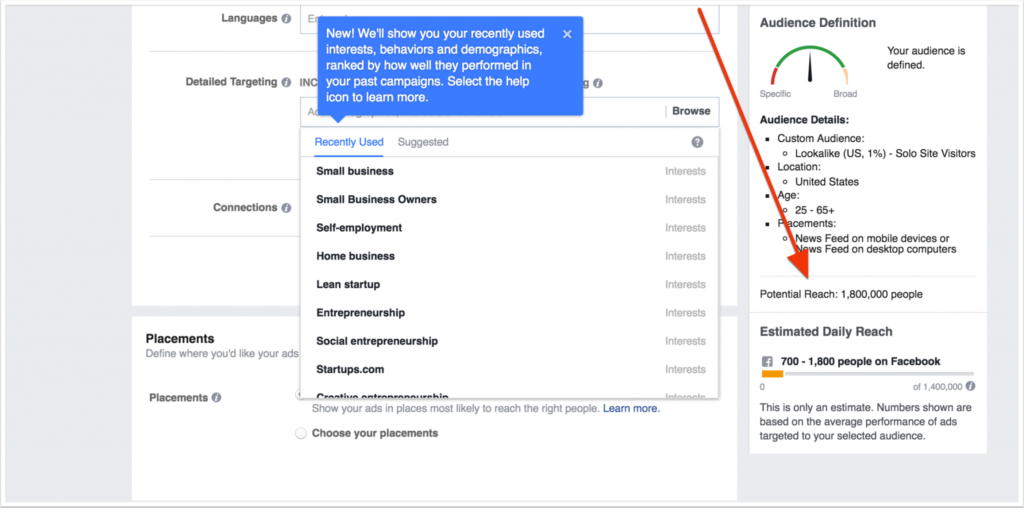 Now Comes the Budget
I begin with $5 per day for the first 24-72 hours to test my ad and see what my costs per lead will be. Once I know, I can make adjustments and leverage my results. You can also select a total budget for the campaign.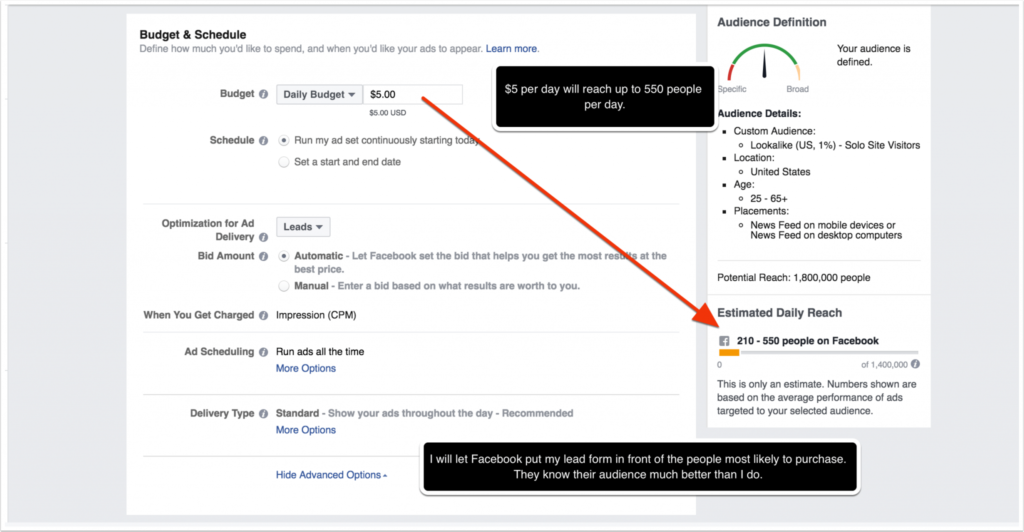 Time to Choose Your Creative
Facebook has a library of stock images you can choose from. Or you can create custom images and upload them. I selected 6 images. Each image becomes a separate ad that will run. As you watch your stats if one image is costing you more because it is getting presented more and not driving conversions then turn it off–or change your image.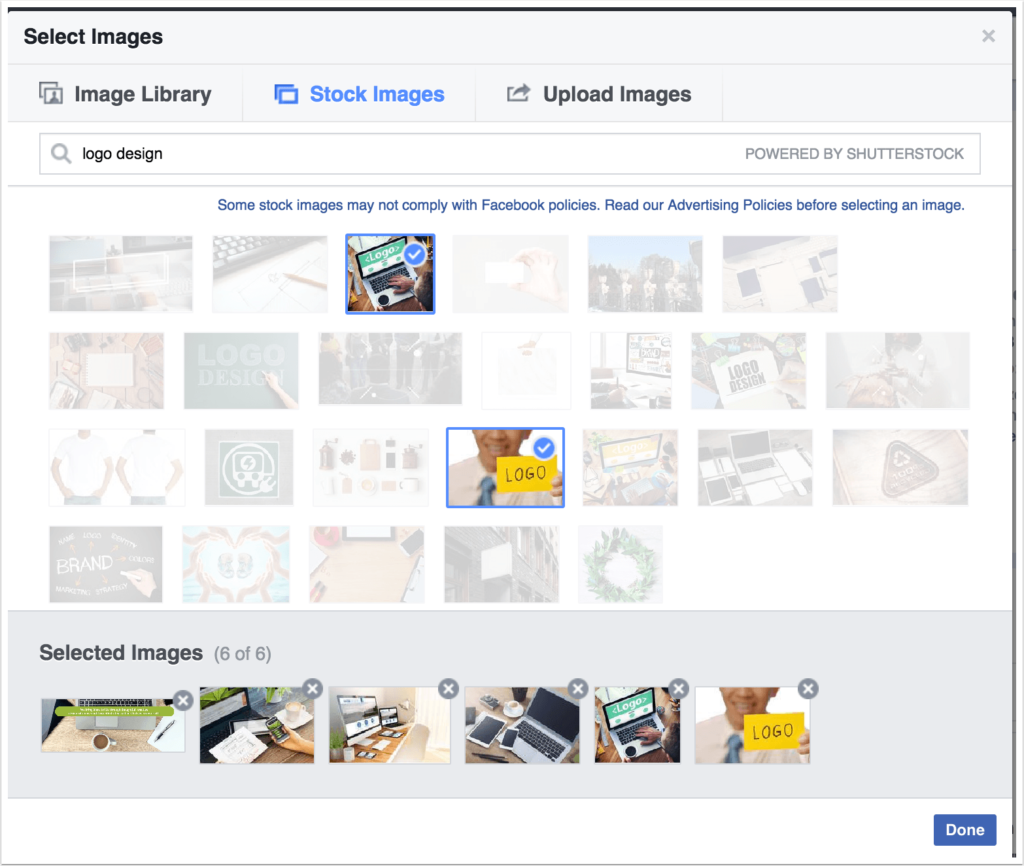 Headline and Description for Ad
Headline appears below the image and the text appears above the image. Newsfeed link description appears below the headline.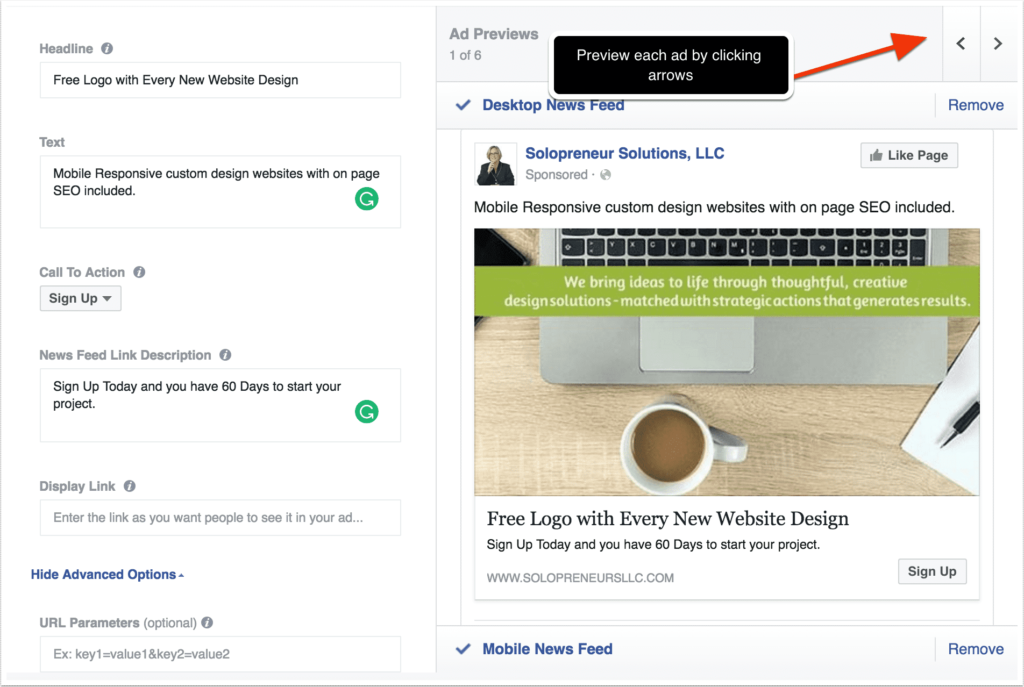 The Lead Form
Prospects will complete the lead form right on Facebook and the form will auto-fill with their info so they just have to hit submit, which is extremely helpful on mobile.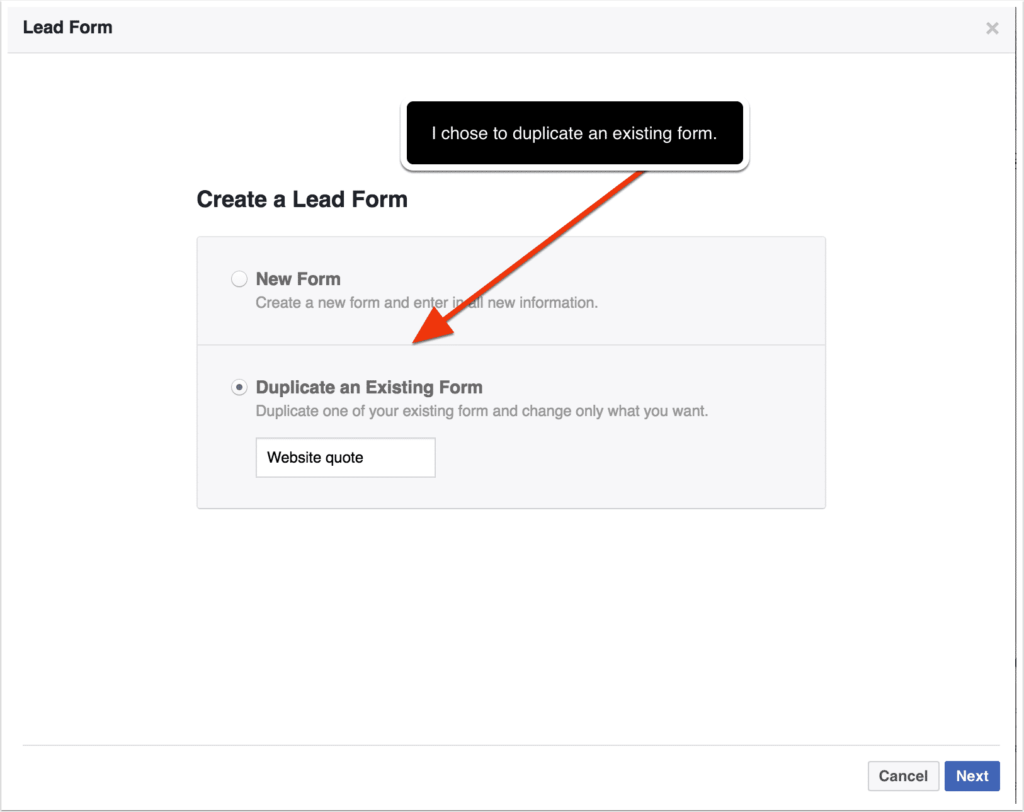 Form Name
Add a name for your form so you will remember what it is. If you offer takes just a little explanation then also add a Context Card.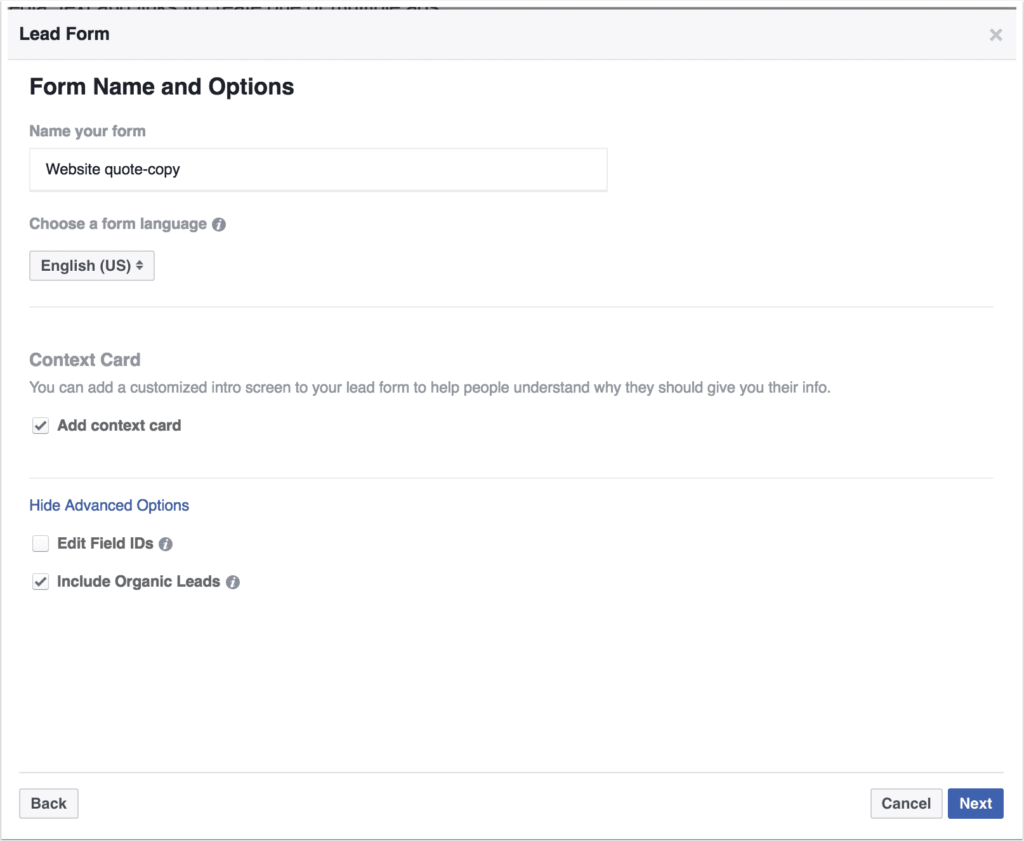 Customize Form
Choose the info you must have when someone fills out your form. I made it simple: Name, Email and Phone (so I can follow up). You can also add custom questions if you choose., like when do you plan to purchase.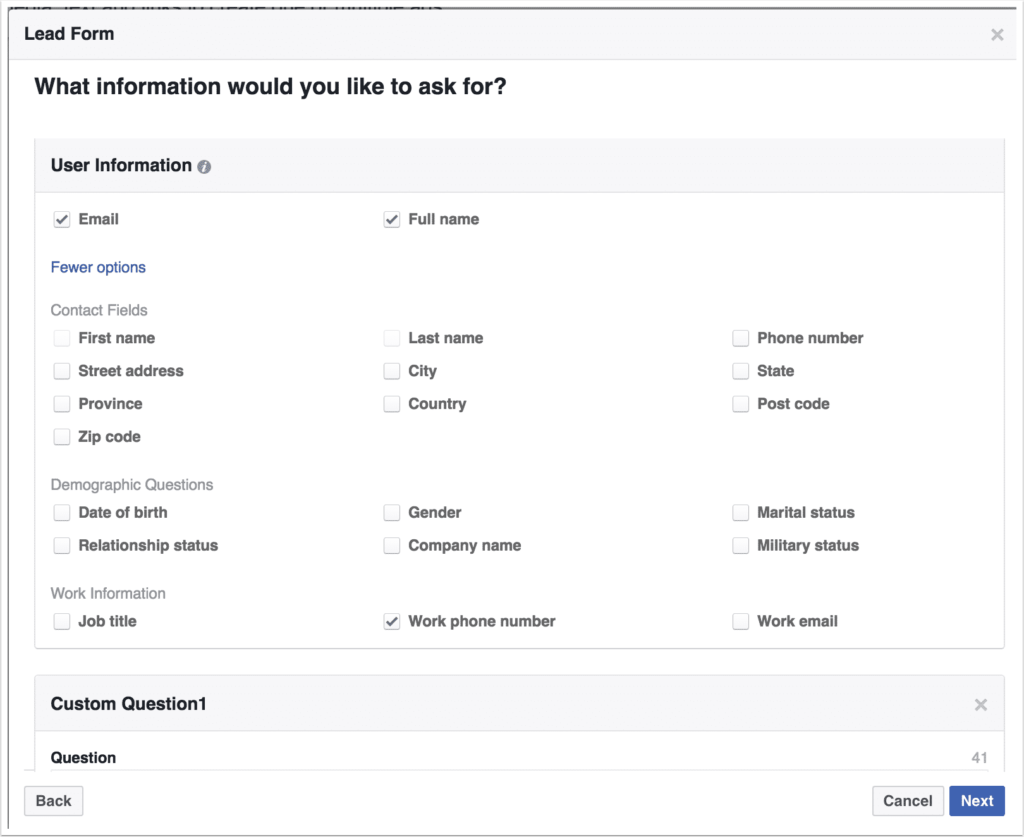 Must Have Privacy Policy
My privacy policy is a pdf file that I have loaded to my media library and it makes it easy to share the link. If you also need a custom disclaimer you can add that as well.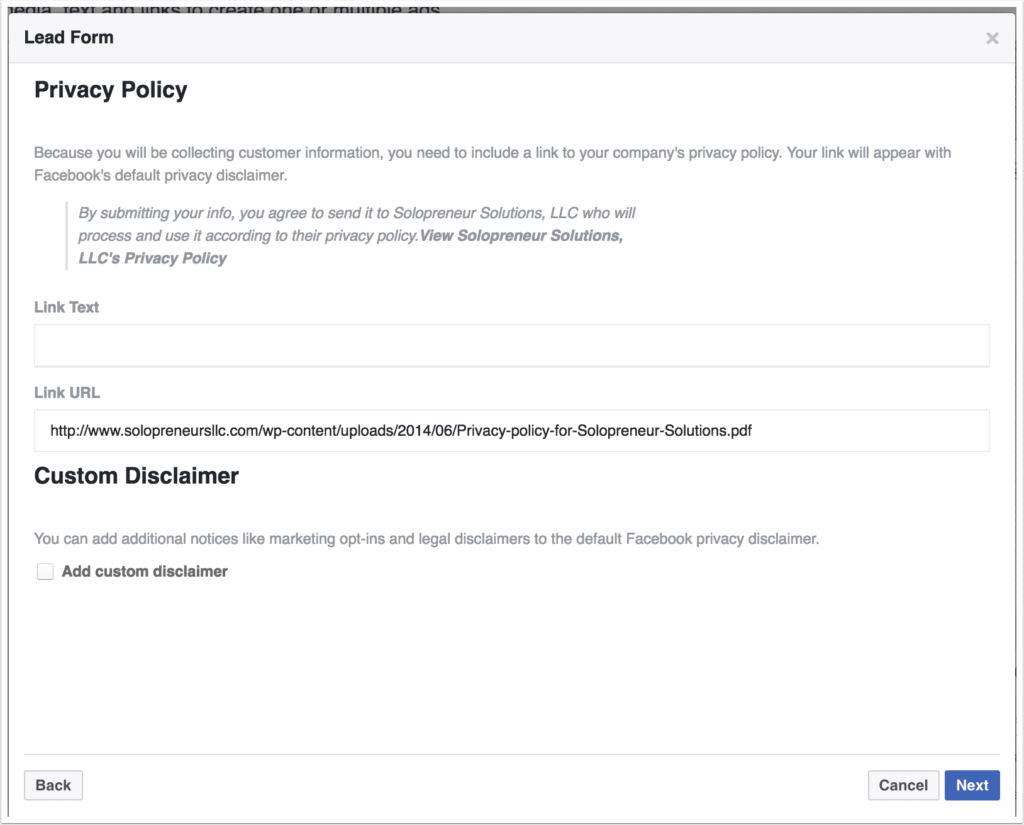 Complete the Form
Once your lead completes the form you can offer a link to your website if you choose. I think this is important for those that do not know you or your business, it gives them an opportunity to learn more about you and your services without having to look too hard to find the information.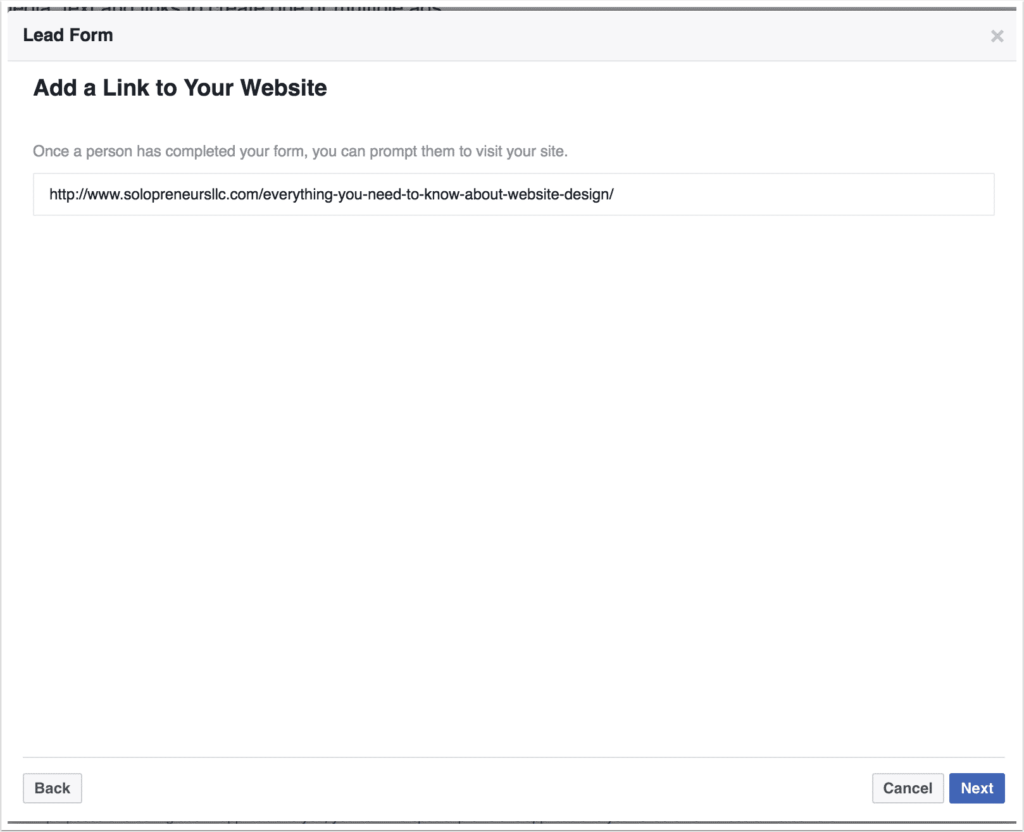 Complete Context Card
This is where you give detailed information about your offer if it needs more explanation.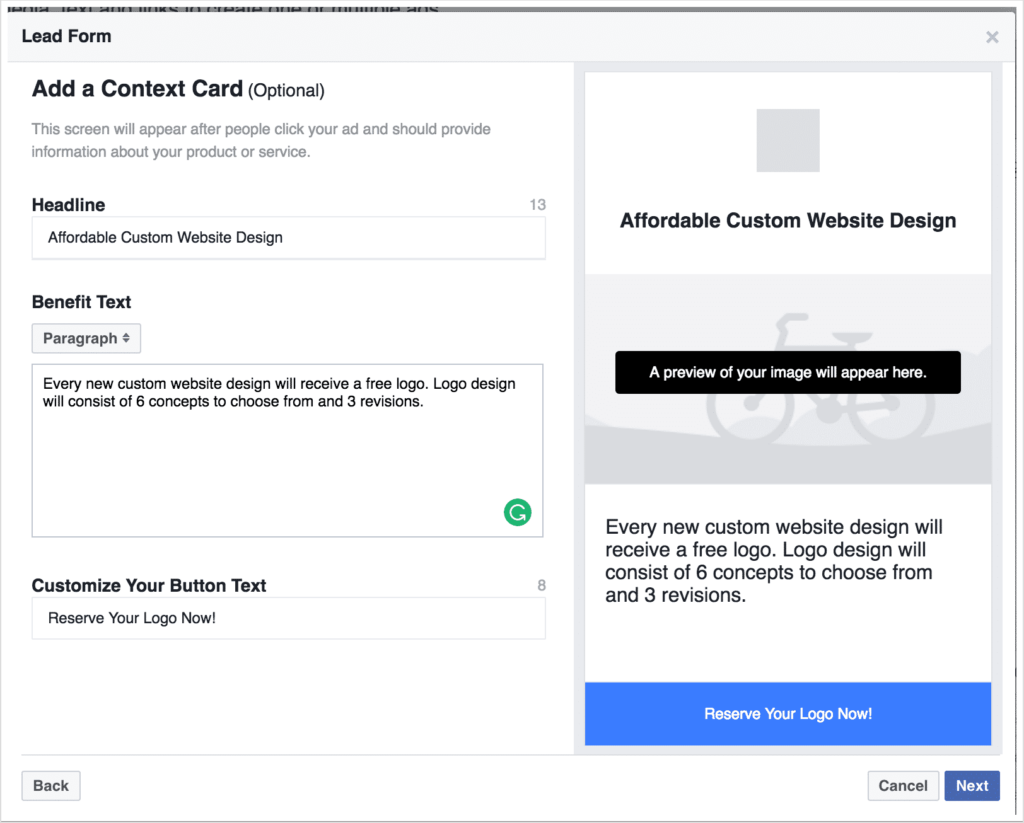 Preview Your Form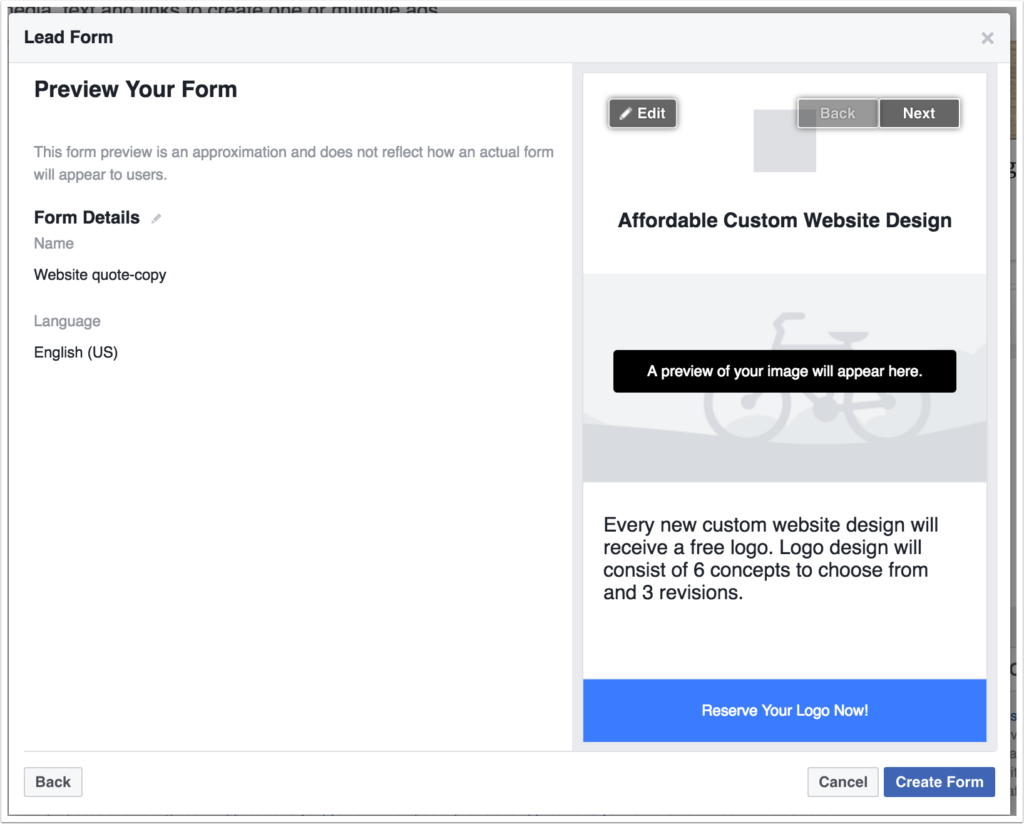 Place Order
Once you have completed your form it is time to place your order.

Where to Find Your Leads
So where are those leads? Go to the Publishing Tools on your Facebook Page; Click on Lead Ads Form and then to the right you will see a list of your forms and you can download your leads from this screen.

Following these steps will have you collecting leads from Facebook in no time. Here are a couple of successes from Facebook to demonstrate how you may choose to use lead ads.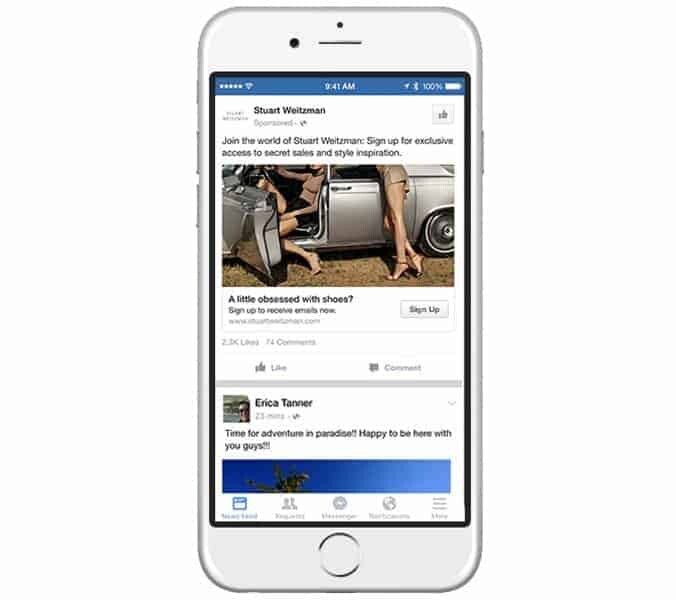 "We offer our email subscribers access to exclusive updates and an inside look into the world of Stuart Weitzman. Email marketing is a valuable tool to expand our visual storytelling and drive sales. As compared to other acquisition efforts, lead ads yielded a 52% more efficient cost per lead across domestic and international markets." – Susan Duffy, Chief Marketing Officer, Stuart Weitzman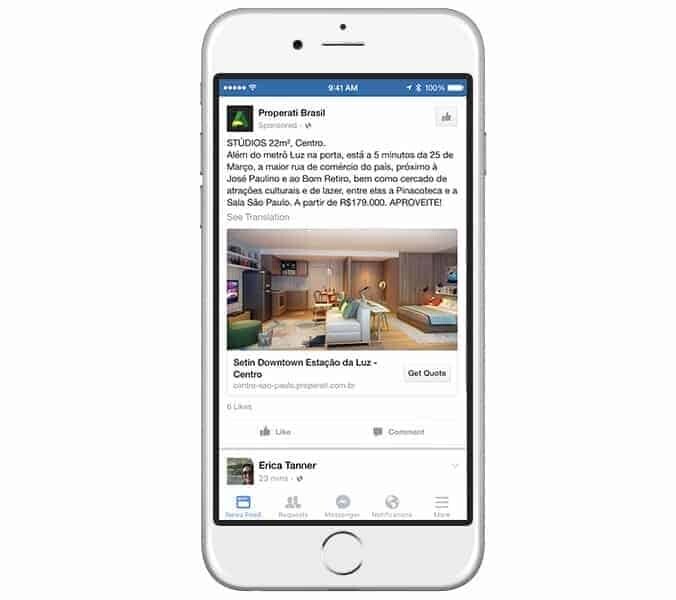 In the Latin American real estate marketplace, Properati used lead ads to connect with people who wanted more information on the properties they have listed. The result?
"Lead ads were a game-changer product for Properati. In the past, we had tested similar products from other channels but they didn't work for us. Since testing lead ads, we have seen a 4x reduction in the cost per lead, with a more than 3x increase in the number of leads we normally generate in Brazil." – Gabriel Gruber, CEO, Properati
Think about how you can use Lead Ads to grow your sales pipeline. If you would like to download the instructions in a pdf file you can do so here Facebook Ads Manager.