Facebook's big developer conference, F8, has come and gone, with the announcement of several new features, many of which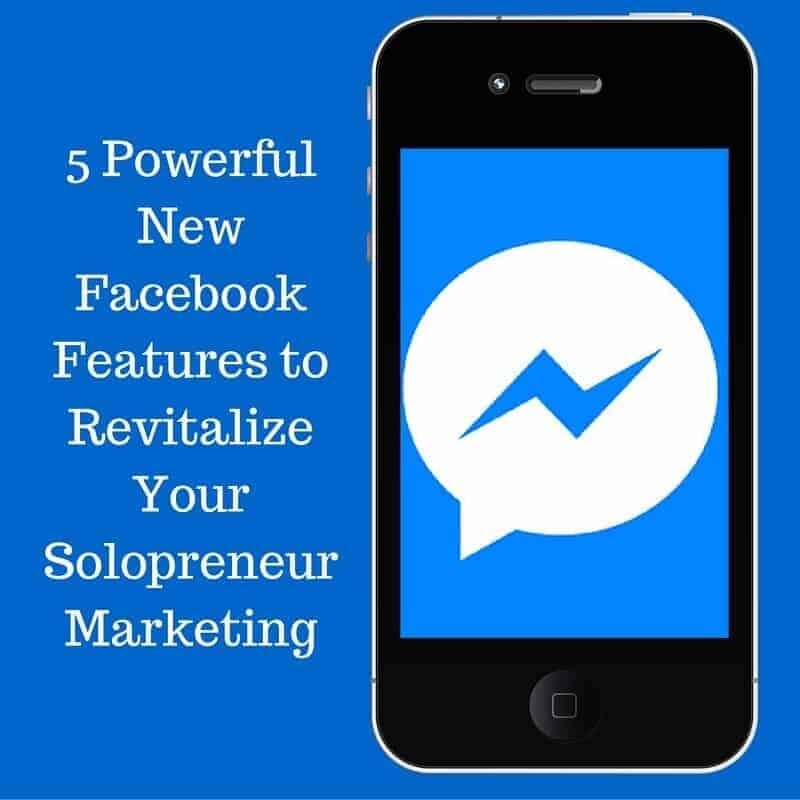 targeted at marketers who want to reach the original social network's massive user base. As of the end of Q1 2016, Facebook reported 1.65 billion users monthly, with a whopping 91% of them accessing the platform through a mobile device.
So what are these new features and how can you leverage them to make your Facebook solopreneur marketing even more effective? Let's take a look.
The Rise of Video
Let's start off by saying Facebook isn't the only place where video is a huge deal. All across the web, video is becoming more popular with consumers and marketers alike. Online video already accounts for half of all mobile traffic, and one study found that 78% of participants watched video at least once a week, and 55% watched video at least once a day. (Check out this Hubspot infographic for more information about the rise of video.) Perhaps a more relevant statistic here is that the Online Publishers Association claims 80% of users recall a video ad they viewed in the past 30 days.
So video is the future of the web and of marketing. Facebook's expanded its Carousel advertising feature to include video (it was formerly only available for photos). And shortly before F8, Facebook launched a video discovery hub where people can search and explore video on Facebook. It's a smart move given that the second-largest search engine (behind Google, of course) is actually YouTube.
If Facebook can capture even a fraction of YouTube's users, it'll be in a really good place for its video platform. And marketers are sure to benefit, the same way they have with YouTube.
It's also worth mention that Facebook has noted a decline in the amount of personal information people are posting on the network. Instead of sharing stories about their lives, they post articles curated from across the web.
This push for video (combined with new live streaming capabilities, which we'll talk about next) is no doubt a way for Facebook to win back users from platforms such as Snapchat.
IF you want to step up your marketing, you should start looking for ways to include video content, whether it's product demos or big news announcements — or just a behind-the-scenes look at your business.
Go Live
Following in the footsteps of Periscope, MeerKat, Twitch, other live-streaming platforms (including YouTube?), Facebook's newly announced Live API will let users stream live video directly on the platform. This is obviously a continuation of Facebook's efforts to expand its video platform.
It might seem odd for the company that championed a newsfeed based on relevancy rather than timeliness to want to jump into the live video game, but Facebook is definitely paying more attention to breaking news and what's trending of late. (Have you noticed the not-so-subtle conversation suggestions in your own newsfeed yet?)
This could be a great way for businesses to take advantage of live streaming without having to build the web capability for it.
Perhaps the most interesting thing about Live is that you can stream from more than just a smartphone. The API supports multiple devices, which opens up a lot of possibilities for marketers.
Introducing Video Profiles
Facebook also announced its closed beta test for its so-called profile expressions kit. There are two things to take note of: first, Facebook is allowing pages to replace their profile pictures with brief (as in 7-second) videos. Second, it now has a tool that will let you create these videos using other apps (such as Vine or Boomerang) and send them directly to Facebook. This tool will be available to developers who want to incorporate the feature into their own apps, too.
For businesses, this is an opportunity to better connect with your customers, and it should be fairly easy to implement.
Messenger Bots Have Arrived
The Messenger feature can be incredibly useful for businesses to connect with customers and provide customer service, but it can be difficult to monitor and respond timely when you're the CEO, marketing team and customer service team all rolled into one.
Facebook is touting the ability to build these messenger bots as game-changing for businesses, but there's not a lot of practical talk about it yet, just high-level ideas. But you should be able to build some customer service scripts and automate general questions about the business. If you don't have a dev team that can do this for you, Facebook has plans to help businesses connect with others who can manage these services for them.
Improved Sharing Tools
As mentioned, people are sharing less of their personal lives and more curated content. Taking an obvious cue from Pinterest and Hootsuite, Facebook is introducing a button that will allow people to save links directly to Facebook as an extension of Facebook's existing "Save" feature. (Didn't know it exists? Here's a primer.) Make sure you enable this on your site and your app so that users can save articles and access them later on any platform through Facebook.
Second, it's also introducing a feature that will allow people to more easily share quotes from articles, books, or even apps. This is essentially making it easier for people to do what they already do — but it's a good idea to implement this on your own site (and in your app) to encourage people to share your content.
It's clear that Facebook is evolving as a social network, and as a marketing platforms. These new features and tools work in favor of marketers — and there's no reason for you to not take advantage of them!