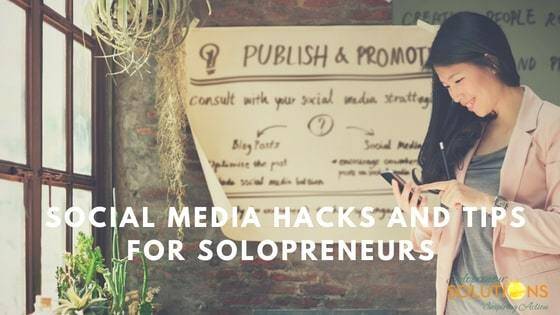 When you're a solopreneur, you have a lot of work on your plate. You're growing your company entirely on your own, so that means the weight of each department falls on your shoulders. When you're already dedicating all your time to the company, you want to find the unnecessary components and cut them out. Unfortunately, as some solopreneurs may believe, social media is not a business aspect that can be forgotten.
But luckily for any busy solopreneur out there, there are a few hacks or tips that can make your social media pages a bit easier to use:
Get Started on the Right Foot
Before we get in to how to make social media run smoother, we need to address its importance. As more and more business is done online rather than in person, our Facebook, Twitter, LinkedIn, YouTube, and other social platforms act as an extension of our main website. They help to grab attention in other popular pathways and push customers to an item, blog post, or other website component in order to make a conversion.
If you are new to the social scene, you will need to begin by getting your platforms established. While you may feel like you need to jump in headfirst to your strategy, you'll get overwhelmed if you begin all your platforms too quickly. Begin with the most popular pages, like Facebook and Twitter, and work your way up. If you are a company that works in the business to business spectrum, you'll also want to include LinkedIn.
As you begin to nail down these strategies, you can start implementing new pages. Although you may want to wait until your engagement on your first pages are high, you should begin them as soon as you have the hang of posting and reading analytics. This will help you stay on track and up to date with necessary changes.
Hacking Social
Once your pages are all set up, you're ready to begin hacking your social strategy. Here are a few of the tips that can make posting, engaging, and growing your business on social platforms a bit easier:
1. Create a Plan
If you try to "just wing" your social strategy, you're never going to get far. You'll go days or even weeks without posting, have a difficult time coming up with content, or you'll start posting irrelevant information. If you're not connecting with your followers, they'll leave you in exchange for a competitor.
Social Media Fillable PDF Strategy Template
This guide will walk you through each of the social platforms. Sharing how to create results by providing the direction to take your strategy and the tasks to perform.
This is the guide I use to establish client's strategy and help their businesses grow and gain profits!
Click here to access the Social Media Guide
Creating a calendar for your social posts can keep everything organized and in order, and ensure you're reaching your posting goals for the day, week, or month. A social calendar allows you to see what posts will go out on what day, so if you have a promotion or event coming up, you can give yourself an adequate amount of time to push information on your social platforms.
A calendar can also help you save time. Say you carve out at hour or two at the beginning of the month to craft all your social posts for the next few weeks. While this may be spending more time on social upfront, you're going to save yourself a lot of time and energy worrying about it for the month ahead.
Use a pre-made social schedule to make the process even easier. With online resources and programs, you can simply begin inputting your ideas into an already existing template.
2. Schedule Posts
You don't need to get on your computer or pull out your phone every time you're ready to post on a social page. Instead, you can schedule posts ahead of time with resources and tools like Hootsuite, Buffer, or SproutSocial.
Each of these programs allows you to input the editorial calendar you creating in step one into an automated posting program. You can select the platform the post should be shared on, the time you would like it to be shared, and what day it should appear. Once you pre-determine the settings for the post, you don't need to worry about it again.
When you've already created a social calendar for the month, it is easy to input it into the posting software. At the beginning of the month when you create your calendar, spend another few minutes inputting the calendar into your posting service page. Once it's all in there, you'll know that your social will be active during the next month and you can focus on other business items.
Even with your posts scheduled, you are able to go in and make modifications to your plan. If you want to remove posts before they appear, change the date or time of a post, or add additional posts, you are free to do so with your scheduling software.
3. Be Human
Although scheduling your posts is perfectly acceptable and encouraged, your platforms shouldn't read as if a computer has been uploading your content for you (even if one has). Instead, your friends or followers want to feel like they're really engaging with you.
Some companies and businesses believe their social platforms only needs to be a string of links to blog posts or products that can be found at the website. They add a simple "Check this out!" before the link appears and hope that it is enough to entice fans or customers to click through. Unfortunately, this behavior will probably only lose you some followers and probably won't generate any new business.
With each post that you create, be sure that there is an actual human voice behind it. Your friends and followers want to engage and connect with someone that they feel like they can relate to, not someone who is just pushing their products or services at them. Listen to what your followers are talking about, acknowledge when they connect with you, and use your social platforms as a way to make a connection.
4. Use Analytics
Analytics aren't just for your website. You should also be using them to measure how well your social profiles are doing. For most of the major platforms, you can use the website's own analytics components to see how well your posts are reaching, who is connecting with them, and how many click throughs they have. You may also be able to see demographical information about them, so you can tell if you're reaching your target audience or not. If you want to see how those parts are translating onto your website, you can use Google Analytics, allowing you to see what happens once they click off the social page.
Using analytics can help you make a deeper connection with your client or customer. When you understand what information they are connecting with and what they enjoy, you can push more posts of that nature to them. It can also help you to acknowledge which kinds of posts aren't performing well and eliminate them from your schedule.
Analytics are a great way to understand the give and take that comes with social. Too many small business owners believe that their social platforms are only there to act like a sales tool to drive information to the website, but it is really a wonderful opportunity to truly see inside the lives of the people who purchase your products or use your services. As they are your customers and they are the driving force behind your business, you should be doing everything possible to accommodate them and keep them interested.
Checking the analytics of your posts can also help you from wasting time or resources. Instead of posting a tidbit of information and hoping it sticks with your customers and clients, you know exactly what they like and what they don't. You can reduce the time you spend on your social calendar and free up your schedule for other business activities.
Managing and maintaining strong social platforms is crucial for solopreneurs looking to see their companies take off. Whether you have been using social for years and you're just looking for ways to make it a bit less stressful or you're completely new to the game, hacking the social system is easy. With these four tips, you can create better social strategies and connect better with your customers.