Social media has never been more popular than it is right now. So, if you're thinking of using a social media platform to promote your brand or business, it seems like a pretty smart idea. Currently, Facebook serves over 1 billion users. Most of the visits to Facebook from these users are via a mobile device such as a smartphone or a tablet.

Of the 1 billion users online, there are only 2 million active advertisers, which provides an exceptional opportunity for you to put yourself out there on social media to get started building up your business.

Aside from the number of users on social media, the amount of time just one person spends on Facebook alone in a day is tremendous. The average person may spend nearly 30 percent of their time, or about 2 hours, on Facebook every day.

How to Create a Business Page
The first step to using Facebook ads to promote your business is to set up a personal Facebook page. Once you've created a personal Facebook account, then you are free to create a new page which you can do from the navigation menu when you click the Pages header. From there you can easily choose to create a page for a business or brand.

Facebook will guide you through the setup process, but some things it will ask you to include are a logo that represents your business, details about your company, and a website URL for viewers to find you online. If you choose, you can link your Facebook and Instagram accounts together. Once the page has been set up, you will find applications available to you that allow you to share events, updates, photos, and more with visitors to your page.

When you're ready to create an ad, you can be as versatile as you want with its appearance. Options available for you to choose from include a single image, a single video, a slideshow, or a collection of items.

Next, you need to choose a direction to drive traffic so that your ad will be most effective. You can choose to drive traffic toward a website, an app, or to your Facebook messenger. At least at first, you will likely want to point users toward your website or a special landing page that contains an offer.

Finding Your Target Audience
Another important part of creating your ad is deciding on a target audience. Facebook allows you to choose an audience based on location, being as broad or as specific as you would like. You can also select your target audience based on age and gender. There's even an option to submit your own demographic so you can match your ad to an audience that is better and more specific to what you're offering.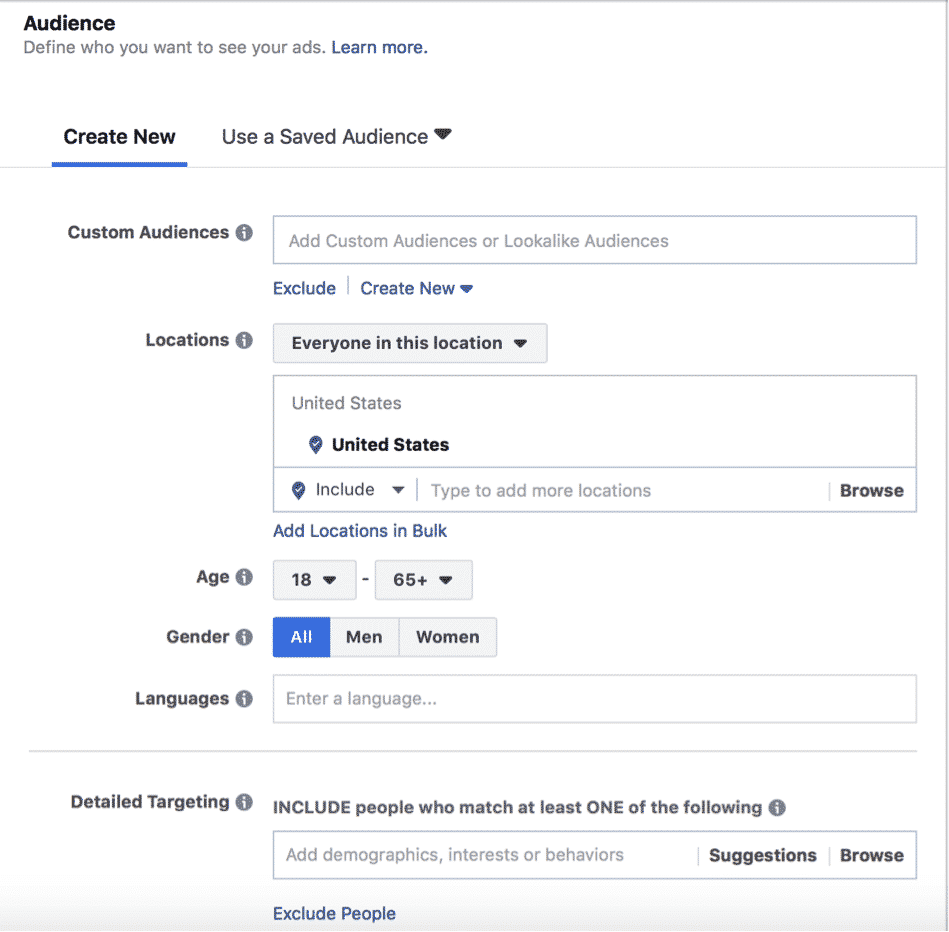 Selecting an Objective
After your business page has been set up and you've chosen a target audience, you must select the objective for your ad. When you choose the right objective, this will help deliver your content to the right people and get them to take the desired action. There are multiple objectives available to select for your ad, but they are grouped under three main categories: awareness, consideration, and conversion.

Objectives under the awareness category are as simple as they sound – they aim to promote awareness of your business or brand.
Consideration objectives attempt to reach people who may be more likely to be interested in your business or what you have to offer and may want more information.
Conversion objectives are best for promoting downloads, registrations, store visits, and purchases.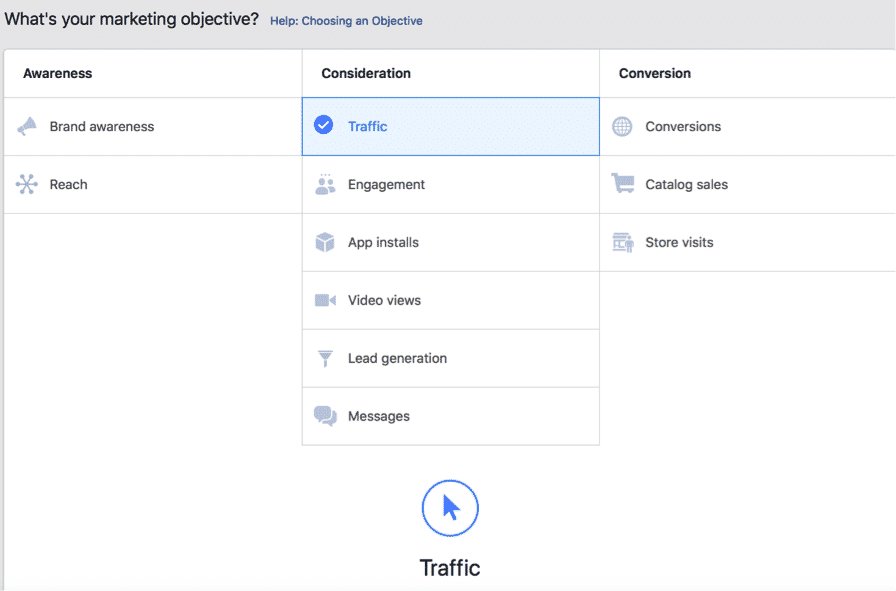 Create an Offer
You can also reach people by creating an offer. Creating an offer allows you to post discounts, sales, coupons, and other special deals to help drive people to your business with some enticement.

Creating an offer is easy with the event/offer application that appears on your page. You get to decide if your offer is in-store and online, in-store only, or online only. If you choose to make your offer available online, you will be able to give a web address and a promo code for users to redeem the offer.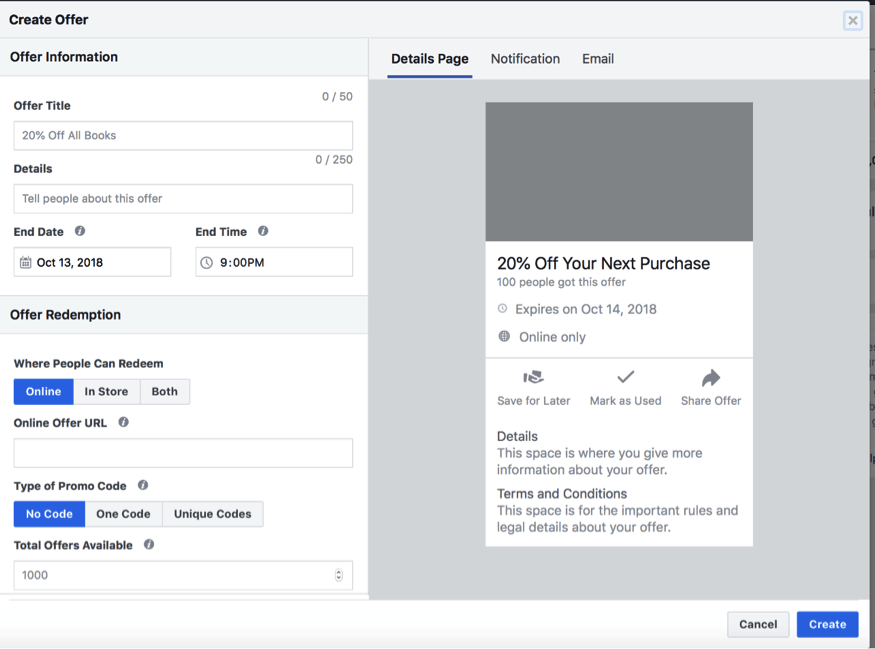 Less is More
More good news is that Facebook ads don't require a ton of money to be able to reach a large number of people. It also allows you to set up a daily or lifetime budget, so you're in control of your advertising and how many people you want to reach.

The budget settings can be modified throughout the ad campaign. Begin by loading the first few daily budget amounts with as much as possible to reach as many per day as you can. So, in a week-long promotion, load your daily budget heavy, then check engagement levels. If the ad is doing well, it may pay dividends to raise your daily budget. If not, you can lower it for the remainder of the campaign.

Use the metrics of this ad to plan your next one. What can you change to make the ad more effective? Try different images, colors, text, and various offers with each new ad. Remember what worked best and use that tactic again on later ads.

Now you're ready to start reaping the benefits of social media advertising. You've successfully created a page for your business and chosen the way you want people to see your business represented in an ad. You've set up everything you need to turn visitors into customers and leads.

What success have you had with Facebook ads? Do you have a great tip to share? Post it in the comments below so all our readers can benefit.