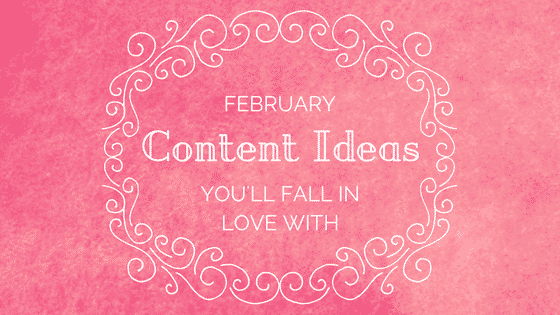 January is already pretty much behind us, which means February is pretty much here — and that means you need to start thinking about your content marketing efforts for the month! Fortunately, there are some really great sources of inspiration that you can use to turn out some amazing content. As always, remember that quality matters! Choose topics that are relevant to you, your business, or your followers.
You can take advantage of the holidays to offer sales and promotions, or just to provide much-needed resources for your customers. Of course, there are plenty of other interesting ideas to discuss: it's the awards season, as well as the Super Bowl, and the start of international fashion weeks, all of which are great opportunities to discuss trends, influential figures and of course the media
February 2: Groundhog Day
Once a year, all eyes turn toward a groundhog in Punxsutawney, PA, to see whether winter will stick around or spring will come early. Whether you believe in Phil the groundhog's predictive powers, it's certainly a pop culture phenomenon — there's even a movie about living out the day on repeat. Perhaps now is a good time to offer a buy-one, get-one sale?
February 4 :World Cancer Day
World Cancer Day on Feb. 4 is an event designed to raise awareness of a disease that kills 1 in 7 people worldwide — more than tuberculosis, malaria, and HIV/AIDs combined, according to the American Cancer Society. This is a great chance to encourage people to take action, support a research organization, or otherwise get involved in the cause.
February 5: Super Bowl
Super Bowl Sunday is best-known as a day for food and football, but even if you aren't a big fan of the sport and don't want to talk about ways to make your watch party more awesome, this event is worth talking about because of the commercials. How much do companies spend on a spot? Several million dollars, usually. This is a great launching point for a discussion of marketing and Buzzfeed-style lists of "Who rocked the Super Bowl commercials?"
February 12: The Grammys
Without a doubt, the Grammys are the biggest music awards celebration of the year. Here's a great chance to talk about influential musicians or the best songs and albums of the year — or maybe create a playlist of music to work (or work out) to.
February 12: Abe Lincoln's Birthday
The 16th president of the United States, Abraham Lincoln, was born on Feb. 12, 1809, in Hodgenville, Kentucky. His resumé is pretty common knowledge — The Emancipation Proclamation, the Gettysburg Address, the assassination by John Wilkes Booth. But there's plenty of more obscure facts about Honest Abe for you to delve into. (Take a note: Lincoln's birthday is sometimes celebrated along with George Washington's on Presidents Day.)
February 14: Valentine's Day
Valentine's is the epitome of manufactured holidays in some people's eyes — candy hearts, cards, chocolate, romance. But you can put a twist on the holiday with blog posts about ways to "love you _____" — anything that relates to your niche or industry. And of course, you can't go wrong with gift ideas.
February 20: Presidents Day
Depending on where you live, Presidents Day is celebrated solely as George Washington's birthday, as Washington and Lincoln's birthdays together, or even as a general way to honor all of the former US presidents. This is another great time to dive into American history and interesting facts. However, it's also a pretty common day for sales and special promotions, because it's a federal holiday.
February 22: Single-Tasking Day
There's never a shortage of obscure, silly holidays, but Single-Tasking Day is a great chance to remind people that multi-tasking actually hurts your productivity. Instead, it's better to focus on a single task at a time. You could also throw in some other tips to make the most of your productivity.
February 22: Washington's Birthday
George Washington, first president of the United States, was born on Feb. 22, 1732, near what is now Colonial Beach, Virginia. He's known as a founding father, a talented military leader, and America's first president, but again, his life story is far more complicated than that.
February 26: Oscars
The Oscars are the biggest celebration of film annually, and a tradition for many, complete with watch parties. Whether you want to talk about the biggest films of the year, how to host a fancy Oscars party, or your projections for who'll win, (not to mention the best-dressed celebrities of the evening) there's plenty to discuss here, depending on what field you're in.
February 28: Mardi Gras
Mardi Gras, better known as Fat Tuesday, Pancake Tuesday, Shrove Tuesday, or "That really wild party in New Orleans" is absolutely a religious holiday — it's the day before the Catholic holiday Ash Wednesday, and the start of Lent, the 40-day period leading up to Easter. Typically, it was treated as the last day to enjoy certain ric foods before the fasting period begins (hence the "fat" in "Fat Tuesday").But even for those who aren't religious, this holiday has some very interesting traditions associated with it, from the eating of pancakes and pancake races to full-on carnivals.
Famous Birthdays:
February 1, 1878: Birthday of Hattie Caraway, the first woman elected to serve in the U.S. Senate. When her husband, who was serving as an Arkansas senator, passed away in 1931, she served out the remainder of his term and went on to be elected to the position herself.
February 3, 1821: Birthday of Elizabeth Blackwell, the first woman physician in the U.S. She was born in England but grew up in New York. She earned her medical degree from the Medical Institution of Geneva College in Geneva, NY. She was also the first woman to be added to Britain's medical register and spent most of her life as an advocate for various causes, including women's education in medicine.
February 3, 1894: Birthday of American artist Norman Rockwell. Rockwell is known both for his work on the covers of the Boy Scouts magazine Boys Life. as well as Rosie the Riveter and various Saturday Evening Post magazines. His work is generally synonymous with American culture.
February 6, 1859: Legendary baseball player George Herman "Babe" Ruth (1895-1948) was born in Baltimore, Maryland. Ruth held or shared 60 Major League records, including pitching 29 consecutive scoreless innings and hitting 714 home runs.
February 7, 1812: Birthday of Charles Dickens. This British author was prolific, and his work continues to influence pop culture today. Oliver Twist, A Tale of Two Cities, David Copperfield and Great Expectations are well-known works, as well as A Christmas Carol.
Additional Topics to Explore:
Fashion Weeks: February kicks off the London, Milan, and Paris fashion weeks. If your business intersects with the fashion industry (or relates to design), this is worth paying attention to.
African-American History Month: The entire month of February is an opportunity to celebrate African-American history. Including major historical events, noteworthy inventors, political activists and others who have had a significant influence on history.
New Year's Resolution Reminders: February is when people start letting up on their new year's resolutions. Consider offering up advice for how people can keep on track with their resolutions, keep their momentum going, and tools that will make the entire process easier.
The US Postal Service: On February. 20, 1792, George Washington signed a piece of legislation that officially established a government-operated postal service. At the time, the cost of sending a letter was 6-12 cents.
What topics interest you? What's happening in your local community? What's events in the world that will affect your industry or your customers? There are tons of ideas to be found for blog posts if you're just willing to open your mind and maybe do a little bit of research.
Good luck, and happy writing!